4 August 2020 – Rome to Monte Carlo 10 nights – Seven Seas Voyager
Overview
Every Regent Seven Seas Cruise is a voyage of intrigue, luxury and total enjoyment. Some of the highlight events of this cruise:
ANGELA SCHNEIDER | FEATURED LECTURER

Angela Schneider holds Masters Degrees in Music and Medieval History from Aachen University and is currently a violist with the Vancouver Symphony. Since 1990, she has been involved in the popular, new field of culinary history, which studies the ways in which food has shaped social, cultural and political history. Angela also teaches viola and Music History at the VSO Music School, gives frequent pre-concert talks, and teaches Culinary History at Capilano University.

Angela is a popular Destination and Enrichment speaker on cruise ships because she brings history alive by humanizing the subjects and examining what motivates the larger processes of historical change. Her presentations are entertaining, informative and visually rich, incorporating her extensive knowledge of European history, culture and music.

AUG 4, 2020 | SPOTLIGHT ON PUBLIC BROADCASTING

A Spotlight on Public Broadcasting sailing with Regent Seven Seas Cruises® and Artful Travelers provides the incredible opportunity to meet with and learn from public broadcasting's most dynamic and insightful personalities.

This 10-night itinerary offers travelers access to some of America's most fascinating people with a special focus on the state of Journalism around the world. Fresh from the Democratic National Convention and just weeks before the Republican National Convention, PBS' NewsHour anchor, Judy Woodruff will provide a thorough, unbiased exploration the "Fourth Estate" and the importance of the integrity of the press in a very complex geopolitical climate. Bloomberg's Al Hunt will provide color commentary on his long career of reporting and commentary with analysis of the races and decisions facing the American public. Spotlight favorite political analyst, Charlie Cook, will "look at the numbers" and provide insights on the viability of each Presidential candidate along with forecasts for House and Senate races. All of the presentations will be non-partisan – with insight, analysis, and inside access to all facets of this most interesting election cycle and the role of the press. These presentations will be coupled with celebrations of arts, culture and history courtesy of filmmakers from PBS' American Experience and American Masters.

Meet and engage with these experts and their featured guests at panel discussions, presentations, as well as private dinners and cocktail receptions which allow for one-on-one interaction during the unforgettable voyage.

JUDY WOODRUFF – Broadcast journalist Judy Woodruff is the anchor and managing editor of the PBS NewsHour. She has covered politics and other news for more than four decades at NBC, CNN and PBS. She is the recent recipient of the Radcliffe Medal, the Poynter Medal for Lifetime Achievement in Journalism, the Gwen Ifill Press Freedom Award from the Committee to Protect Journalists and the Cronkite Award for Excellence in Journalism from Arizona State University. She received the Edward R. Murrow Lifetime Achievement Award in Television from Washington State University, the Gaylord Prize for Excellence in Journalism and Mass Communication from the University of Oklahoma and the Al Neuharth Award for Excellence in the Media from the University of South Dakota. She was inducted into the Georgia Association of Broadcasters Hall of Fame and received the Leonard Zeidenberg First Amendment Award from the Radio Television Digital News Association and the Duke Distinguished Alumni Award, among others. She is the recipient of more than 25 honorary degrees.

AL HUNT – A Bloomberg Opinion columnist covering politics and policy. He was the executive editor of Bloomberg News, before which he was a reporter, bureau chief and executive Washington editor at the Wall Street Journal.

CHARLIE COOK – An American political analyst who specializes in election forecasts and political trends. Cook writes election forecasts and rankings in his own publication, The Cook Political Report, and in other media. He is a political analyst for the National Journal and since 1994 with NBC. Cook writes two columns for National Journal, "The Cook Report" for the main publication and "Off to the Races" for the online National Journal Congress Daily. Since the 1984 US presidential election, Cook has provided election night commentary for various television networks.

The insights and experience of the special hosts and lecturers aboard our Artful Travelers sailings is unparalleled and unavailable anywhere else in the world. An Artful Travelers voyage with Regent Seven Seas Cruises is, quite simply, an unrivaled experience.

Mention the group code "ARTFUL" at the time of booking to be included in all Spotlight on Public Broadcasting activities.

CLUB MARINER YOUTH PROGRAM

For adults who want to share their travel adventures with their children or grandchildren, our complimentary youth program is designed for age groups 5-8, 9-12 and 13-17 and is supervised by a staff of experienced and enthusiastic youth counselors. Young travelers will enjoy all kinds of exciting, interactive activities during this voyage.
Itinerary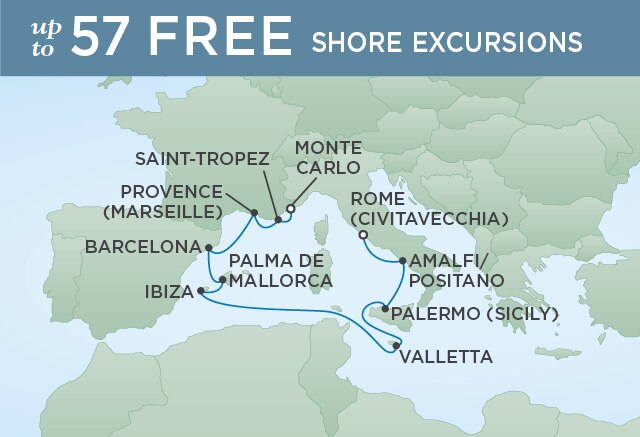 DATE
PORT
ARRIVE
DEPART

 

 

 
Fares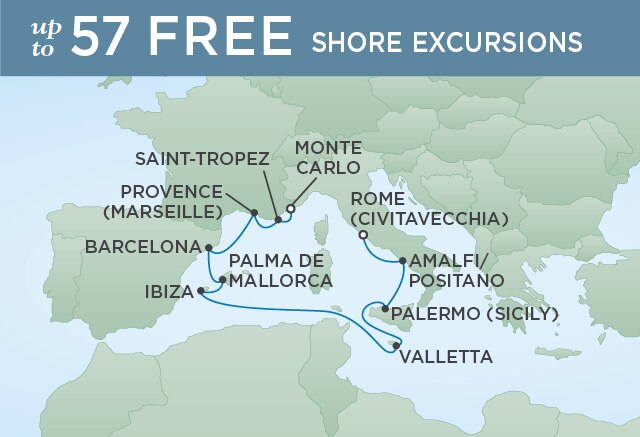 BIGGER REDUCTIONS AVAILABLE – CONTACT The Cruise Market on 951 571 387 or [email protected]
COMPARE
SUITE CATEGORIES
STANDARD
FARE
SPECIAL
FARE
AVAILABILITY
SUITE SIZE
WITH BALCONY
FT2/M2
DECK LEVEL
BUTLER
SERVICE
CONCIERGE
LEVEL
AMENITIES

 

MASTER SUITE (DECK 11) – MS »

 

 

 

SEVEN SEAS SUITE (FORWARD) – SS »

 

SEVEN SEAS SUITE (AFT) – SS »

 

 

 

 

 

 

 

 

DELUXE VERANDA SUITE – F »

 

 

 

DELUXE VERANDA SUITE – G »

 

 

 

DELUXE VERANDA SUITE – H »
Ship Details
The luxurious Seven Seas Voyager® exudes elegance, from her refined Penthouse Suites to late-night-favorite Voyager Lounge. Every suite features marble bath accents, roomy closets and a private balcony, beckoning you outside while spoiling you within.
Images
MASTER SUITE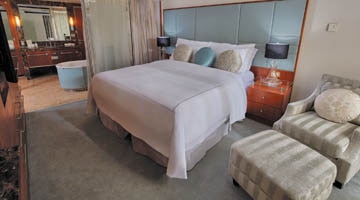 GRAND SUITE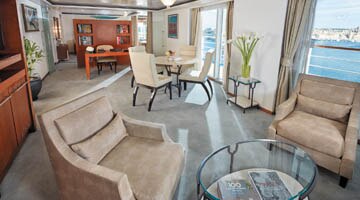 VOYAGER SUITE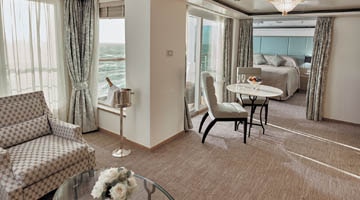 SEVEN SEAS SUITE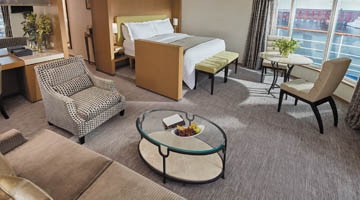 PENTHOUSE SUITE

CONCIERGE SUITE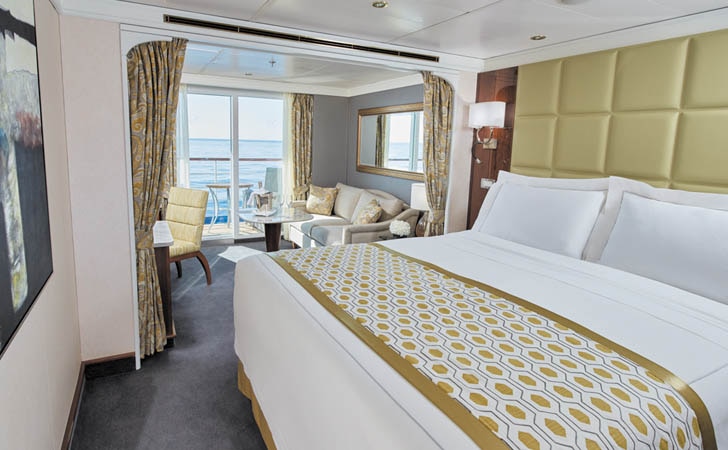 DELUXE VERANDA SUITE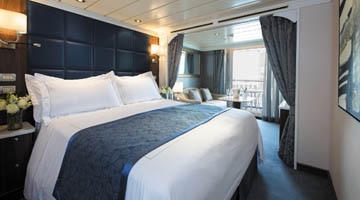 Deck Plans

| | |
| --- | --- |
| Cruise Line |  Regent Seven Seas .  |
| Cruise Ship  |  Voyager |
| Date |   4 August 2020 |
| From |  Rome |
| To |   Monte Carlo |
| Duration |   10 nights |
OR Call for More Details
+34 951 571 387