4 September 2021 – Special Baltic Cruise – from Copenhagen – 9 days – Norwegian Escape
Overview
Six countries and six major port cities – an amazing cruise through the Baltic states, chasing the late summer sun from Copenhagen as we explore some of the most captivating cities in Europe. Explore the wonders of the Baltics on an exciting journey steeped in art, history and culture. With over 200 museums, magnificent architecture and world-renowned operas and ballet, there's plenty to see and do during a 2-day stop in St. Petersburg. In Helsinki, explore the dramatic coastline, visit famous cathedrals or enjoy a sauna ⎯ a traditional Finnish pastime. Tour the picturesque town of Tallin for a glimpse of local life along the Baltic Sea. Then it's on to Stockholm, where canals and cobblestone streets wind past historic castles and modern delights.
Itinerary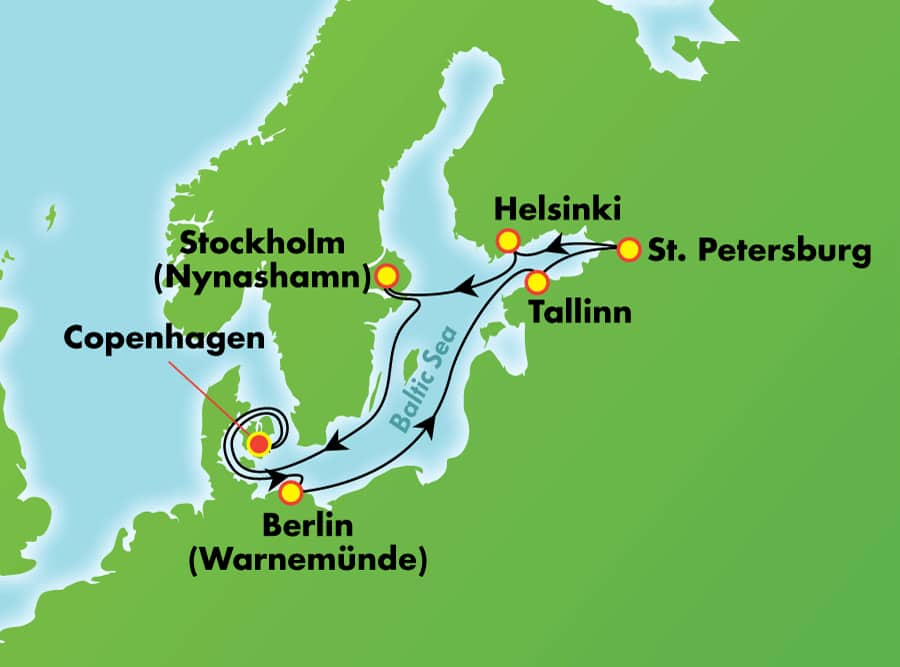 9-Day Scandinavia, Russia & Baltic from Copenhagen – Fly & Cruise
| Date | Cruise Ports | Arrive | Depart |
| --- | --- | --- | --- |
| Sat, Sep 04, 2021 | Copenhagen, Denmark (EMBARK) | — | 5:00 pm |
| Sun, Sep 05, 2021 | Berlin (Rostock), Germany | 7:00 am | 10:00 pm |
| Mon, Sep 06, 2021 | At Sea | — | — |
| Tue, Sep 07, 2021 | Tallinn, Estonia | 8:00 am | 5:00 pm |
| Wed, Sep 08, 2021 | St. Petersburg, Russia | 7:00 am | Overnight |
| Thu, Sep 09, 2021 | St. Petersburg, Russia | — | 7:00 pm |
| Fri, Sep 10, 2021 | Helsinki, Finland | 7:00 am | 4:00 pm |
| Sat, Sep 11, 2021 | Stockholm (Nynashamn), Sweden | 7:00 am | 7:00 pm |
| Sun, Sep 12, 2021 | At Sea | — | — |
| Mon, Sep 13, 2021 | Copenhagen, Denmark (DISEMBARK) | 7:00 am | — |
COPENHAGEN, Denmark
The capital of Denmark, Copenhagen, is filled with canals, cobbled squares and copper spires. But don't let the historic appearance fool you. This is also Scandinavia's most cosmopolitan city. Certainly you can relive medieval times in The Latin Quarter, but you can also enjoy some of Europe's finest shopping, museums, cafes and nightlife prior to your cruise around the Baltics. Explore more of Copenhagen on a European cruise!

 

 

 

 

 

BERLIN (WARNEMUNDE), Germany

 

It's been more than two decades since the walls came down and Berlin became unified in many ways, including the pursuit of joy. Germany's capital city is a city that balances cosmopolitan chic with a liberal undercurrent of creativity and cool. Famous landmarks like the Brandenburg Gate and Reichstag fascinate. The elegant Bavarian Quarter amazes.

The capital of Estonia impresses cruise guests with its mix of medieval houses and very modern boutiques and café culture. Journey inside the ancient walls of Old Town to explore stunning Medieval landmarks like Toompea Castle and a 15th Century apothecary shop. Move up a couple centuries to experience Tsar Peter I's Kadriorg Palace, filled with art and surrounded by sculpted gardens and peaceful woodlands.

 

ST PETERSBURG, RUSSIA

Founded by Russian Tsar, Peter the Great, St. Petersburg has for centuries been the cultural centre of Russia, with its spectacular architecture, Tchaikovsky operas, and the famous Kirov ballet. It has undergone many changes over the decades, but "The Venice of the North" remains a dazzling cruise destination, a Russian city with a European flair, a city with more than 200 museums, and one of the largest English gardens in Europe!

 

HELSINKI, Finland

 

Welcome to Scandinavia's "White City of the North," a city defined more by its people and Art Nouveau architecture than its chilly climate (from October to April). Helsinki is a classic sea-city, with a dramatic coastline coloured by bays and inlets. The city keeps its historical roots intact. Explore more of Helsinki on a European cruise!

 

STOCKHOLM, Sweden

 

When your cruise ship pulls into this small Swedish port, you'll be greeted by ferries transporting travellers to Gotland island. Nynashman hosts a harbour party each summer where boaters and travellers alike flock. The small and laidback town offers picture-taking opportunties from the surrounding scenic nature and of course, the Baltic Sea.
Fares
| | | | |
| --- | --- | --- | --- |
|   | Category | Was | Sale Price |
| Inside | IX | €1.479 | €1.079 |
| Ocean view | OX | €1.899 | €1.369 |
| Balcony | BX | €2.069 | €1.485 |
| Balcony | BD | €2.149 | €1.539 |
| Large Balcony | B6 | €2.529 | €1.799 |
| Spa Balcony | B9 | €2.609 | €1.865 |
This fabulous cruise currently has prices from just €1079 and includes all of the fabulous 'Free at Sea' upgrades:
Free bar throughout the ship

Speciality dining

Discounted excursions

Complimentary Wifi
Ship Details



Norwegian Escape
Get ready to sail one of the most exciting ships on the seas! Norwegian Escape is ready to whisk you away. Indulging in every whim is what unforgettable holidays are made of. Get ready to chase sunsets on The Waterfront. Get closer to paradise with two quintessential Jimmy Buffett venues: Margaritaville at Sea and the 5 O'clock Somewhere Bar. Sip on some of Napa's best blends at The cellars, A Michael Mondavi Family Wine Bar. Be dazzled by Broadway hits like After Midnight. Discover a new world of Freestyle Cruising on Norwegian Escape.
Norwegian Escape Facts
Passenger Capacity 

(double occupancy)

4,266
Gross Register Tonnage
164,600
Overall Length
1,069 feet
Max Beam
136 feet
Draft
27 feet
Engines
Diesel Electric
Cruise Speed
22.4 knots
Crew
1,733
Inaugural Date
2015
Staterooms Aboard
NORWEGIAN ESCAPE
Images
Deck Plans


Deck Key:
Two non-combinable beds
Wheelchair Accessible
Holds 3
Hearing Impaired
Holds 4
Connecting
Holds 5
King Bed
Holds 6
Queen Bed
Holds 8
PrivaSea
Restroom
Elevator
Double Bed
Inside Corridors


Deck Key:

Two non-combinable beds
Wheelchair Accessible
Holds 3
Hearing Impaired
Holds 4
Connecting
Holds 5
King Bed
Holds 6
Queen Bed
Holds 8
PrivaSea
Restroom
Elevator
Double Bed
Inside Corridors


Deck Key:

Two non-combinable beds
Wheelchair Accessible
Holds 3
Hearing Impaired
Holds 4
Connecting
Holds 5
King Bed
Holds 6
Queen Bed
Holds 8
PrivaSea
Restroom
Elevator
Double Bed
Inside Corridors


Deck Key:

Two non-combinable beds
Wheelchair Accessible
Holds 3
Hearing Impaired
Holds 4
Connecting
Holds 5
King Bed
Holds 6
Queen Bed
Holds 8
PrivaSea
Restroom
Elevator
Double Bed
Inside Corridors


Deck Key:

Two non-combinable beds
Wheelchair Accessible
Holds 3
Hearing Impaired
Holds 4
Connecting
Holds 5
King Bed
Holds 6
Queen Bed
Holds 8
PrivaSea
Restroom
Elevator
Double Bed
Inside Corridors


Deck Key:

Two non-combinable beds
Wheelchair Accessible
Holds 3
Hearing Impaired
Holds 4
Connecting
Holds 5
King Bed
Holds 6
Queen Bed
Holds 8
PrivaSea
Restroom
Elevator
Double Bed
Inside Corridors


Deck Key:

Two non-combinable beds
Wheelchair Accessible
Holds 3
Hearing Impaired
Holds 4
Connecting
Holds 5
King Bed
Holds 6
Queen Bed
Holds 8
PrivaSea
Restroom
Elevator
Double Bed
Inside Corridors
| | |
| --- | --- |
| Cruise Line |  Norwegian Cruise Lines  |
| Cruise Ship |  Norwegian Escape |
| Date |  4 September 2021 |
| From |  Copenhagen |
| To |  Copenhagen |
| Duration |  9 days |
Enquire Online
OR Call for More Details
+34 951 571 387