REGENT SEVEN SEAS VOYAGER – ROME TO ATHENS
5 May 2022 – Rome to Athens- Seven Seas Voyager – 10 nights – Continental Crossroads
ITINERARY
| DATE | PORT | ARRIVE | DEPART |
| --- | --- | --- | --- |
| Thu 5 May | ROME (CIVITAVECCHIA), ITALY | | 19:00 |
| Fri 6 May | SALERNO, ITALY | 08:00 | 18:00 |
| Sat 7 May | MESSINA, SICILY | 08:00 | 18:00 |
| Sun 8 May | VALETTA, MALTA | 07:00 | 16:00 |
| Mon 9 May | CRUISING THE MEDITERRANEAN SEA | | |
| Tue 10 May | RHODES, GREECE | 09:00 | 18:00 |
| Wed 11 May | EPHESUS, TURKEY | 07:00 | 16:00 |
| Thu 12 May | ISTANBUL, TURKEY | 13:00 | |
| Fri 13 May | ISTANBUL, TURKEY | | 17:00 |
| Say 14 May | LESBOS, GREECE | 09:00 | 18:00 |
| Sun 15 May | ATHENS, PIRAEUS, GREECE | 07:00 | |
FARES
Further reductions available from The Cruise Market – call us on 951 571 387 or email: [email protected]
| SUITE | REDUCED FARE | DECK |
| --- | --- | --- |
| PENTHOUSE A | €6,945 | 9, 10, 12, 14 |
| PENTHOUSE B | €6,660 | 6, 7, 8, 9, 10 |
| PENTHOUSE C | €6,382 | 7, 8, 9 |
| CONCIERGE D | €5,999 | 7, 8, 9, 10, 12, 14 |
| CONCIERGE E | €5,752 | 6, 7, 8, 9 |
| DELUXE VERANDA F | €5,400 | 7, 8, 9, 10 |
| DELUXE VERANDA G | €5,242 | 7, 8, 9 |
| DELUXE VERANDA H | €5,085 | 6 |
SHIP DETAILS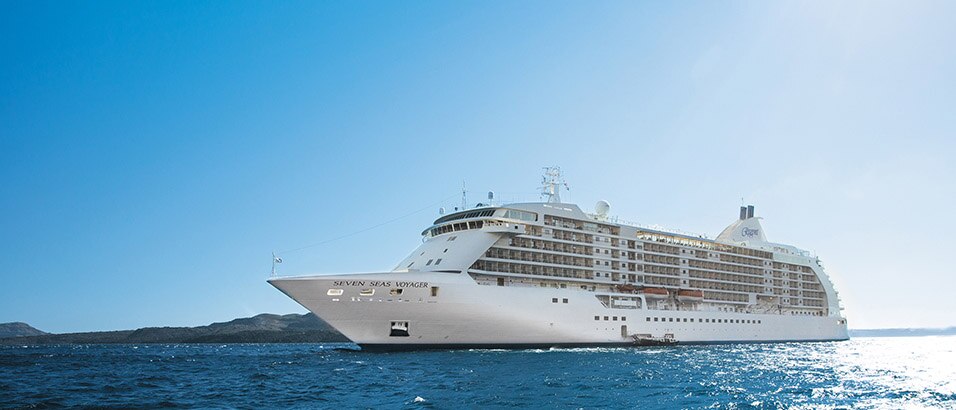 The luxurious Seven Seas Voyager exudes elegance, from her refined Penthouse Suites to late-night-favourite Voyager Lounge. Every suite features marble bath accents, roomy closets and a private balcony, beckoning you outside while spoiling you within.
SUITES
Every suite on Seven Seas Voyager® has a private balcony along with marble bath accents and roomy closets. Sip a cup of coffee or glass of wine and dine alfresco on room service as you take in the endless views and fresh sea air.
MASTER SUITE SUITE SIZE 130-124 M2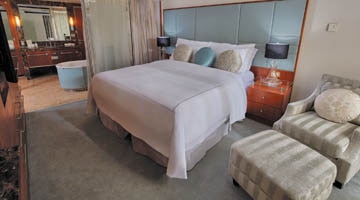 GRAND SUITE SUITE SIZE 81 M2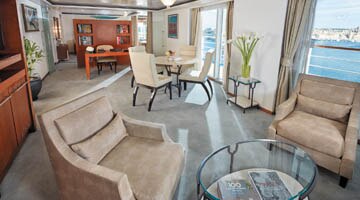 VOYAGER SUITE SUITE SIZE 56 M2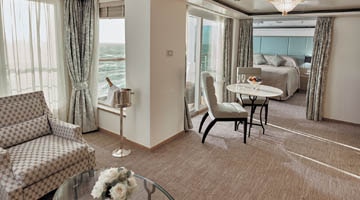 SEVEN SEAS SUITE SUITE SIZE 66 – 50 M2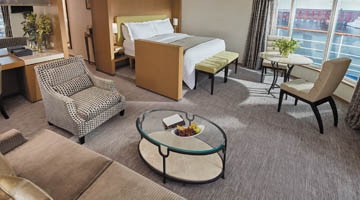 PENTHOUSE SUITE
41 – 36
M
2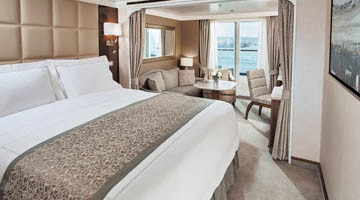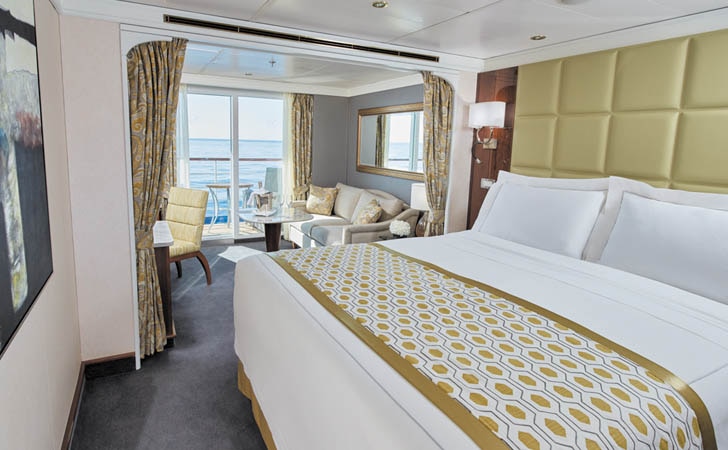 DELUXE VERANDA SUITE 
33
M
2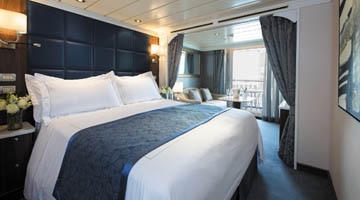 DECK PLANS

IMAGES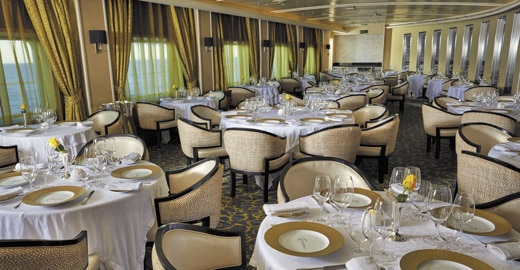 At the hub of the ship, our Atrium is an inspiring testament to the grandeur of luxury ocean travel. Center staircases connect conveniences on Deck 5 to the social spaces of the Voyager lounge and Casino, as well as Compass Rose on Deck 4. This makes it a natural gathering place for guests, signified by a beautiful compass-shaped tile floor at the landing.
Two complete Card and Conference Rooms can be used for everything from bridge lectures and tournaments to corporate meetings and special events. Gather with a few friends for an afternoon or evening of fun competition with board games, cards and more. Larger groups may increase space by removing the dividing door and combining both rooms.

The glorious ocean vistas you'll admire every day won't necessarily have you thinking of golf course fairways, but if you find yourself wishing you could be practicing your fairway swing, head to our Golf Net. All the clubs and golf balls you need are available. Who knows? Maybe you'll return home from your voyage with a few kinks worked out of your golf swing…

If you prefer to travel without a laptop, our staffed Internet Cafe offers desktop computers that allow you to access your emails and browse the Internet. Printer access is available for a nominal fee. Seven Seas Voyager® provides WiFi access throughout the ship, allowing you to connect to the Internet with whatever device you've brought on board.

Well-stocked and offering comfort for the body and mind, you'll discover our Library is a most civil setting for reading and relaxing. Curl up with a classic novel or best-selling mystery, play a strategic game of chess or simply soak up the ambience of a sumptuous reading room. Whatever draws you here, you'll find our library to be a welcoming, low-key treasure you just may find hard to leave.

When you envision the type of activity you're only likely to do while on vacation, sipping a frozen drink at a pool bar onboard a glorious cruise ship is probably near the top of the list. You can tick that box at our Pool Bar, where you and new friends can enjoy leisurely conversation over cocktails and frozen drinks in a delightfully relaxed atmosphere.

Our Pool Deck is one of the most expansive at sea and features a large heated pool, two whirlpools and table tennis. Surrounded by luxurious teak accents, you'll be consistently awestruck by the pool's magnificent vistas high upon Seven Seas Voyager®. You'll also be impressed by our amiable and dedicated crew, who stand at the ready to provide refreshing beverages and plush towels.

While the Golf Net is meant to help you improve your fairway swing, our Putting Greens are less about self-improvement than group fun as your ship travels from one destination to another. A popular pastime is gathering friends after an afternoon cocktail and heading to the top deck of Seven Seas Voyager® for a spirited competition as twilight approaches and a delicious dinner in one of our stellar restaurants looms.

This isn't the sleepy version of shuffleboard. From high atop Seven Seas Voyager®, you'll be enchanted by ocean vistas stretching horizon to horizon as you engage in a game that dates back to 15th-century England. All equipment is well-maintained and available for use – all you have to do is bring a team, or perhaps join one in need of a player.
| | |
| --- | --- |
| Cruise Line | Regent Seven Seas |
| Cruise Ship | Voyager |
| Date | 5 May 2022 |
| From | Rome |
| To | Athens |
| Duration | 10 nights |
OR CALL FOR MORE DETAILS
+34 951 571 387